Many children in Cambodia have looked after cows and taken them for a wash in a local river, stream or pond. Even in the city when we asked for a show of hands to the question, 'Who has taken cows for a wash?', around a third of children put their hands up to say they done this job. In the countryside, cattle are often taken daily to wash, cool down and drink. Our SWIM Cambodia trainers talked to children as young as 5 years of age who had done this job and we often spoke to children who had done this job alone.
Within SWIM Cambodia's Water Safety education, we have a section about dangerous animals, which considers snakes, crocodiles and cows. A cow is not usually percieved as a dangerous animal, but there are many drowning risks for children and adults taking cows into water. The cow could kick back, causing a child to go unconscious, children could get tired and faint from the heavy work and in the hot sun; this is also more likely if the child already has poor nutition or dehydrated. Taking cows into water is a signifcant risk for drowning for children, especially when they are going alone into water. In our education to children, parents and carers, we teach about the importance of being with others in-and-around water and close supervision by a trusted adult. With a lack of swimming and rescue skills in Cambodia, the activity of taking cows into water is a serious drowning risk. So for in the context of Cambodia, we are therefore classing a cow as a 'dangerous animal'.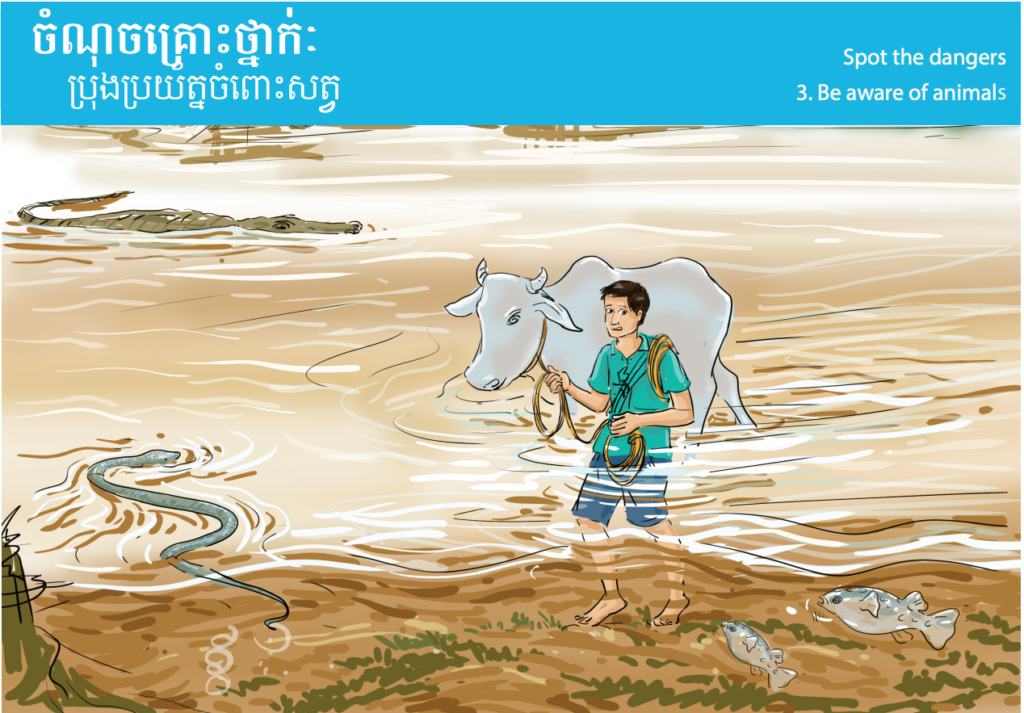 Post written by Conrad Foote. News article from The Khmer Times. Illustrations by Conrad Foote and Srey Mao.